ABOUT US
Located on the beautiful Shuswap, Captains Cove is nestled between Salmon Arm Warf and Canoe beach
Captains Cove Marina has been in business for 40+ years Offering 147 gated moorage slips and parking with additional 5 house Boat slips, Rv spots located 50 ft from the waters edge and close to your moored boat , full service shop, 200 space total storage facilities ,gas dock with added ice cream and confectionary , a large boat wash bay for those days you just might want to polish up your vessel 12 deg boat launch ,to be sure you can get in and out of the water even under low water conditions. Full rental fleet from Jet skis to pontoon boats and everything in between.
Outdoor patio and special event bar for kicking it up a notch after along day on the water. And our rescue boat ,for those days you may not be able to make it back and need a tow in.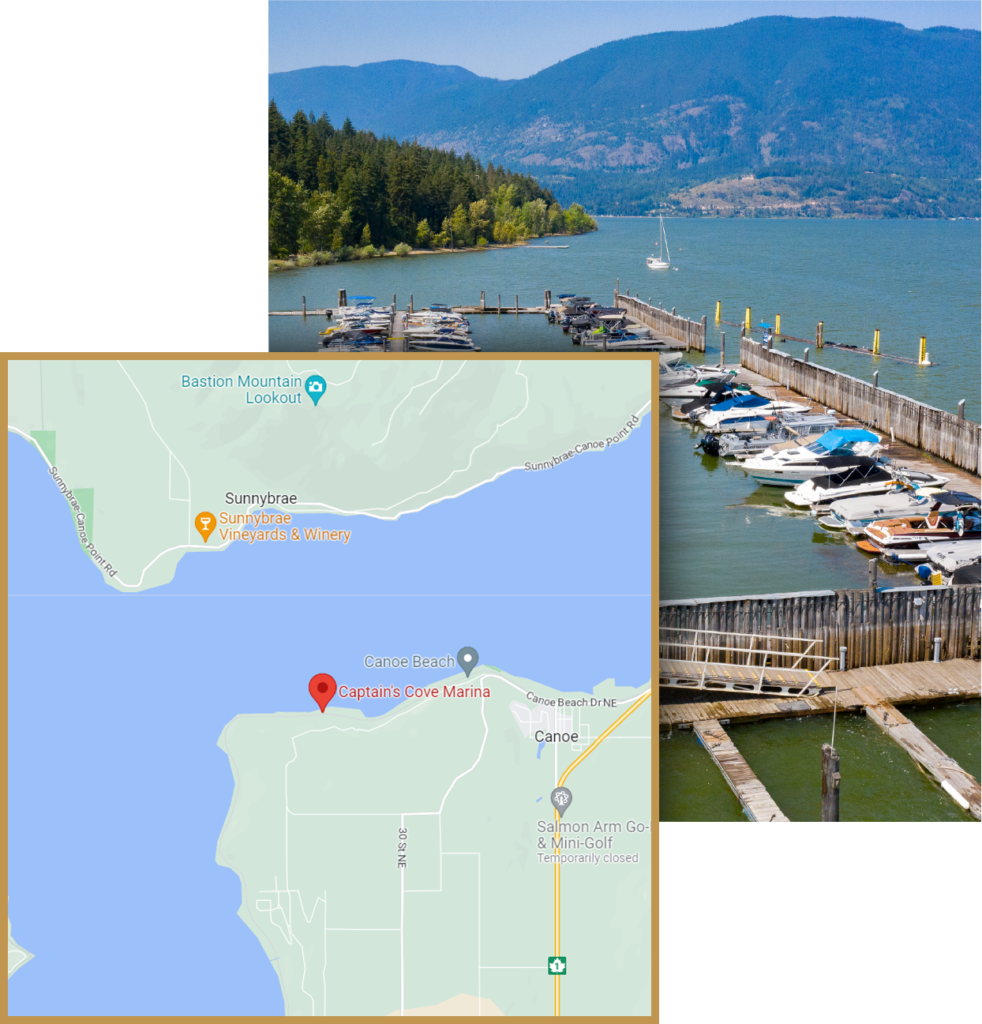 Shuswap Lake Moorage
We at Captains Cove believe in getting more bang for your hard earned dollars ,That's why we introduced pro rated slips ,no more guess work with boat length and the many confusing things that add length to your vessel.
At captains cove you have small, medium, large and extra large each category is based on a year round price moorage in the slip and storage in the storage building One and done!!
Storage
Looking for storage only options for you vessel look no further we have that covered too ( call for pricing).
Waitlist
Don't be left out on the boating season Call 250-832-5224 to reserve your slip Via our waitlist program.
Rental's
Thinking of rental boat for the ? at Captains Cove we have several rental options to chose from starting a $800.00 a day for the 12 person pontoon down to a quick rip on a jet ski for $90.00 per hour ,you decide how much fun on the Shuswap you would like to have.
Quick Hall
At Captains Cove we are forever covering all the bases, The demand was there for folks waiting on a slips to come available, so we introduced a quick hall service for the members that would like to have a slip but are currently waiting on one to become available.
MOORAGE & BOAT RENTALS
Services